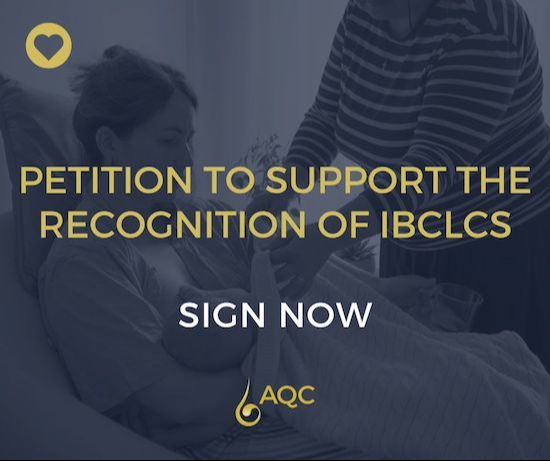 The AQC Recognition Committee has been working towards this goal for several years.
It is therefore with excitement that we share with you today our petition which asks the National Assembly of Quebec to:
1- Create an IBCLC job title in the nomenclature of job titles in the health and social services network;
2- Grant budgets to the CISSS, CIUSSS and CHU for the creation of positions and the hiring of IBCLCs in each health institution in Quebec;
3- Add IBCLCs to the list of health practitioners for tax purposes whose fees can be recognized as medical expenses.
Our goal: Collect as many signatures as possible by August 19, 2023.
This petition is a concrete way to demonstrate the support we receive, from health professionals and the public, in order to make a difference.
You are invited to sign our online petition now in three easy steps:
1. Fill in the form below the text of the petition and send it (you must agree to the conditions to be respected in order to be able to sign the petition before sending the form).
2. check your email inbox and open the message sent by the Assembly.
3. In this message, click on the link allowing you to save your signature.
Link to petition:
https://www.assnat.qc.ca/fr/exprimez-votre-opinion/petition/Petition-10205/index.html
Share this link with your colleagues and those around you to support us in this process, which will be beneficial for parents in Quebec.
Thank you from the AQC team